If you perform a search for security cameras on Amazon.ca, you'll find thousands upon thousands of results. You can find security cameras ranging from less than ten dollars, all the way up to a few hundred dollars for a package that includes an NVR, multiple security cameras, and a hard drive.
You may be encouraged to buy a security system from Amazon based on the reviews and price, but wait! There are a few reasons why should avoid purchasing a security system from Amazon entirely.
Reason #1 – Fake Reviews
It's no surprise that Amazon's fake review problem is worse than ever. The algorithm heavily promotes sellers with a large number of positive reviews[1], as well as those who have a lower price. In order for your listing reach the top of an Amazon search result, you need dozens of reviews on your product.
After browsing Amazon for a couple minutes, I was able to spot dozens of fake reviews for a cheap wireless security camera.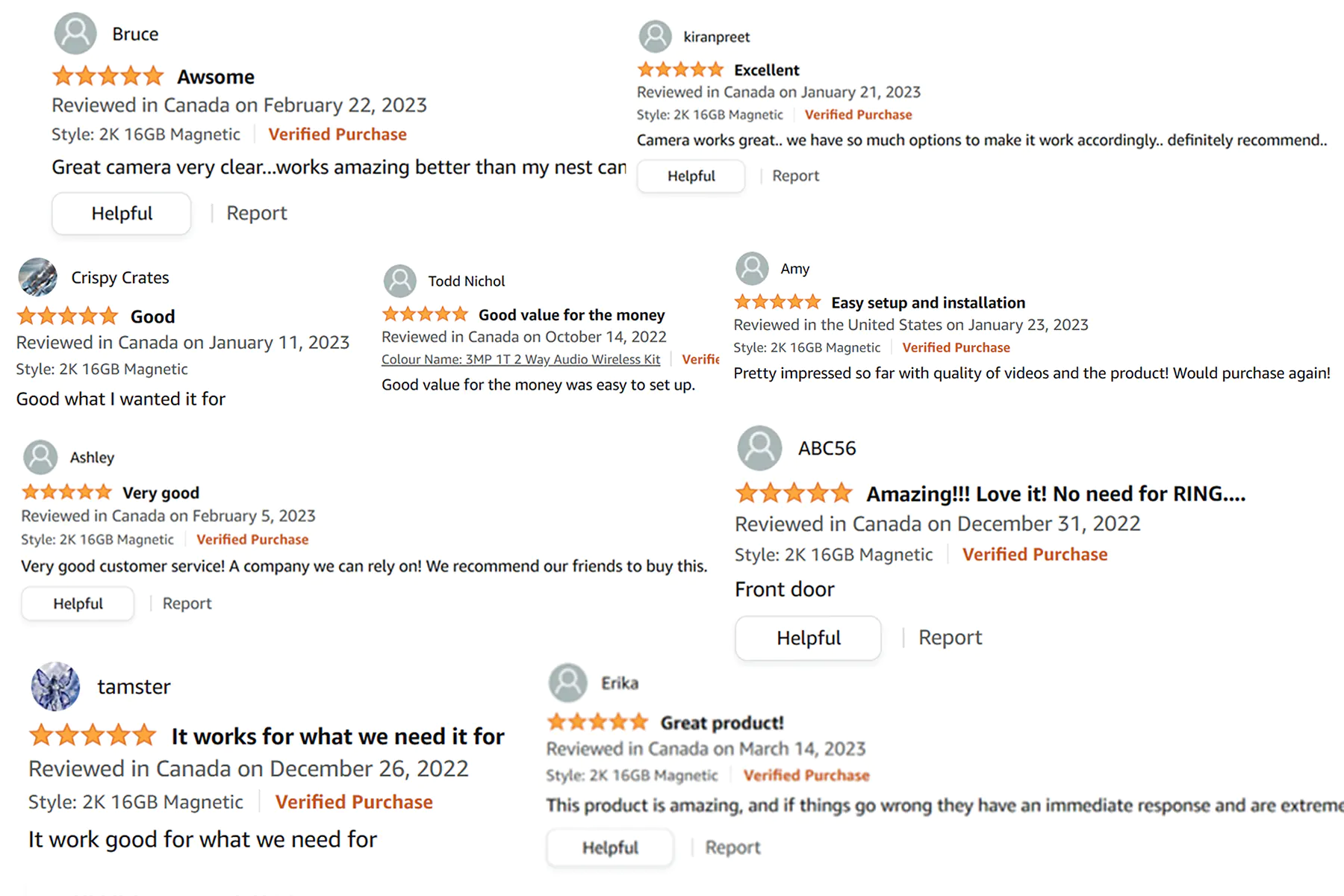 These fake reviews create a lack of authentic information for buyers on the platform. Despite your best efforts to perform product research, you're still relying on information that's sketchy at best, and completely false at worst.
You can try using the Fakespot Extension for Google Chrome to see how trustworthy a product's reviews are… But why even bother? It's better to avoid purchasing security equipment on Amazon entirely.
Reason #2 – False Advertising
This may come as a shock to you… there are sellers on Amazon that post fake pictures of their products and pretend that they are real. Here's an example from a popular brand, Dekco Security Cameras:
This company recorded video from a professional DSLR camera, cropped it, and pasted it into their marketing video pretending it was from their 2MP security cameras.
I can assure you, as someone who's worked in the security industry for five years… There is no way their cameras look anything remotely similar to what they show in the marketing. If a company doesn't show how their cameras look, they are probably hiding something!
Reason #3 – Tech Support & Reliability
It's important for a security system to work continuously 24/7 since when something happens you need it to be recorded. If you don't have the footage from the event, your security system was effectively useless. You should purchase a system that works reliably, without headache, for years on end.
The issue with many of the cheaper systems from Amazon is that they are not reliable… From issues with motion detection, gaps in playback, and weird glitches with the app… And it's difficult or impossible to get a resolution from the company's technical support.
One look at the BBB reviews of GW Security (a popular Amazon seller) shows how many issues their customers are having: GW Security | Complaints | Better Business Bureau® Profile (bbb.org)
"I requested it to be fixed or a refund they ignored my emails and no one answered my calls I stayed on hold for over 3 hours on one attempt I just gave up this company will rob you blind they need to be shut down" – A complaint on their BBB profile
Reason #4 – Hidden Costs (tariffs & duties)
Imagine this: You're browsing Amazon and find a 4K security kit for $699 + tax. This is much cheaper than the local suppliers, who sell a similar product for $849… You go ahead and place the order.
Two days later, you get a call from UPS saying you need to pay $186 in import fees for the product since it was shipped from the US… Ouch!
Unfortunately, the scenario is all too common. You might have encountered it yourself or heard it happen to a friend before. This is why it's better to buy local, so you avoid having to deal with surprise tariff costs.

Is it Worth It to Purchase From Amazon?
If you're buying something small and cheap, I would say go ahead. Keep your expectations low, to avoid being disappointed. And don't expect the security camera to have footage when you need it…
Now, if you're purchasing a security system for your business, I would avoid Amazon at all costs. It's not worth the headache and stress, even to save a few hundred dollars.
Our Recommendation – Use a Local Suppler
We suggest buying your security equipment from a local supplier with a good reputation. Don't trust their reviews on Google Maps either, most of those are probably fake.
We've compiled a list of 12 Places to Buy a Security Camera in Toronto, which includes a variety of trustworthy local Canadian security suppliers. Be sure to check out that list, instead of buying from Amazon!
Consider choosing XLR Security!
The website you're on right now is owned by a hardworking team of security experts who run a company called XLR Security. We are a local Canadian distributor of security equipment, focused on quality and customer satisfaction.
If you aren't happy with your purchase, we have a 30-day return policy. We also offer 3-year warranty for most security cameras and video recorders that we sell.