If you're planning to install a security system made by Uniview, you'll need to do a bit of research to find out which accessories work with your cameras. These accessories are usually required when mounting the camera to the exterior of a building, and you'll want to make sure you choose the right one.
You can also download the Uniview IPC Accessories Installation Guide (2022 Q1). This document provides an overview for which accessories pair with each Uniview security camera.
Types of Uniview Accessories
These accessories can be categorized as follows:
Junction Boxes
Wall Mounts
Pole Mounts
Corner Mounts
Gooseneck Bracket (for PTZ cameras)
Pendent Mounts (i.e. ceiling mounts)
Junction Boxes
We recommend using a junction box when installing a camera on an exterior wall, such as the side of a building. This allows you to hide the camera's connector and extra cable slack within the junction box. 
The benefits of using a junction box include a cleaner install, it's easier to replace the camera in the future, and the junction box protects the wires from vandalism.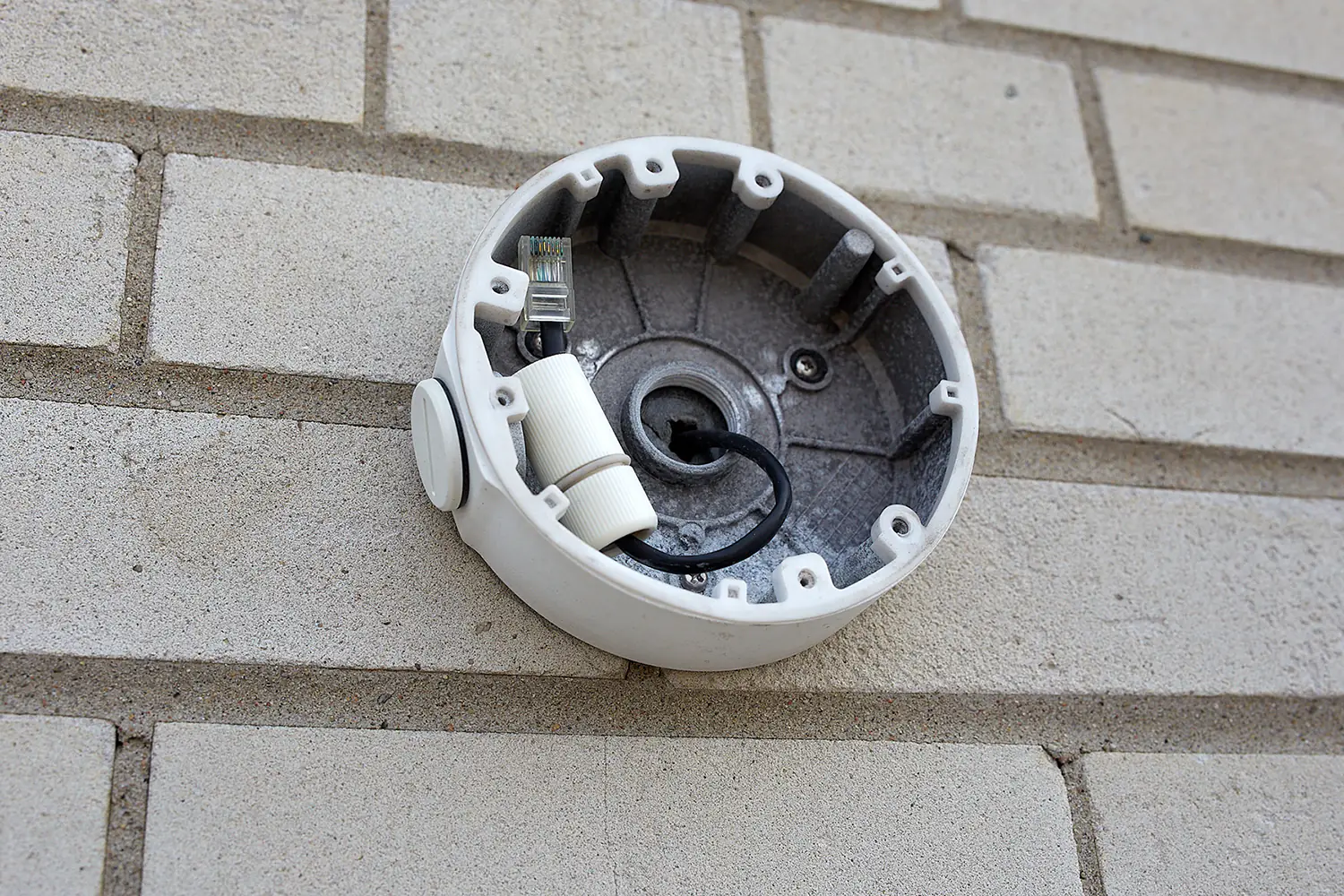 Wall Mounts
A wall mount bracket is similar to a junction box, with the added benefit of bringing the camera out further from the wall. They also allow the camera to point downwards, which makes it easier to aim the camera and adjust the viewing angle.
The Uniview wall mounts are hollow, which means there is plenty of space inside to conceal your cables and RJ45 connections.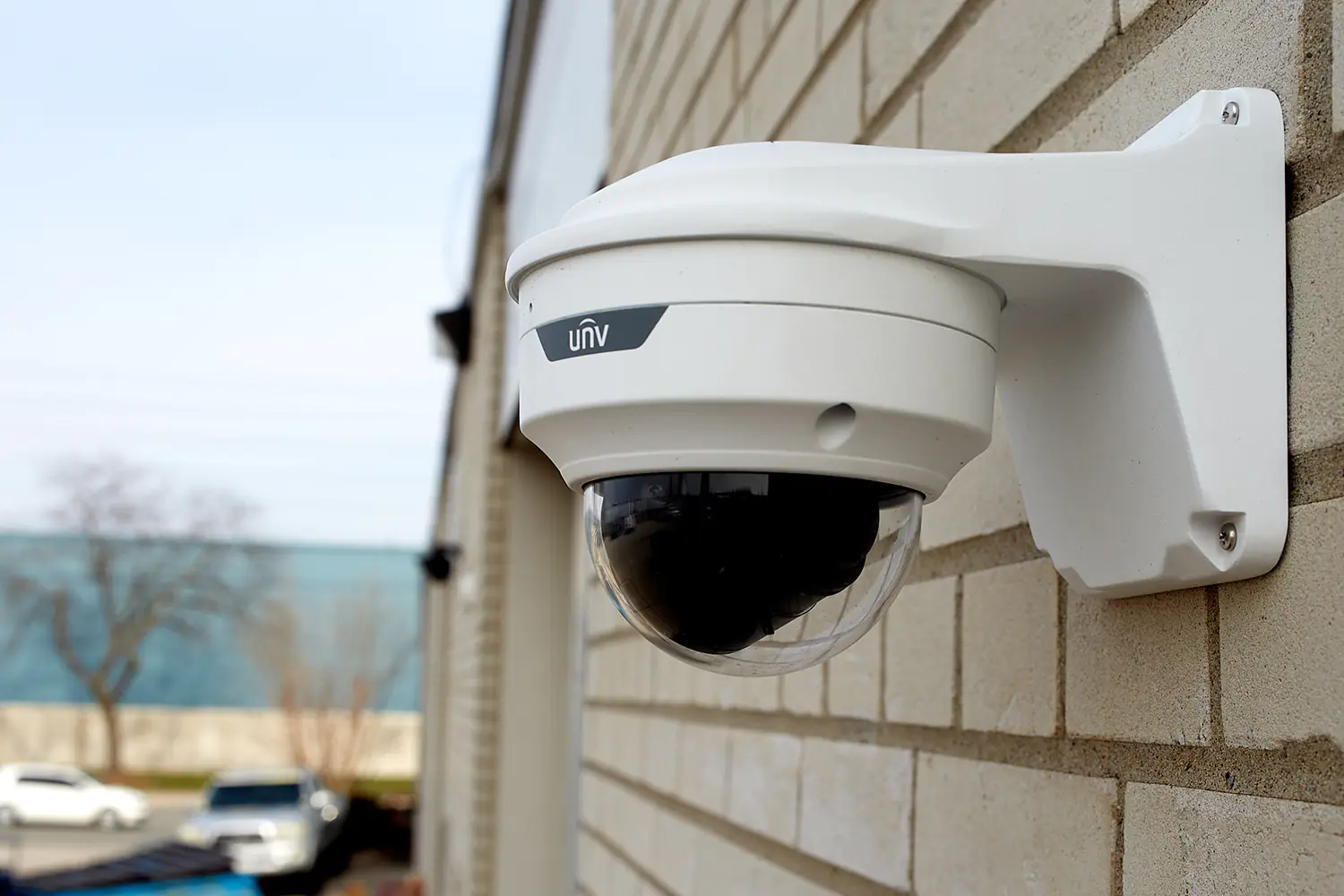 Pole Mount Brackets
This type of bracket is used to secure your camera to poles of various diameters. These will typically be combined with a junction box or wall bracket in the following order:
Pole -> Pole Mount Bracket -> Junction Box -> Security Camera
These pole mount brackets come with a set of metal hose rings. Attached to the rings are worm-gear clamps that can be tightened using a Phillips screwdriver to secure the camera against the pole. 
For use with large poles, you can combine multiple rings together, or buy a large roll of metal hose clamp and cut it to your required size.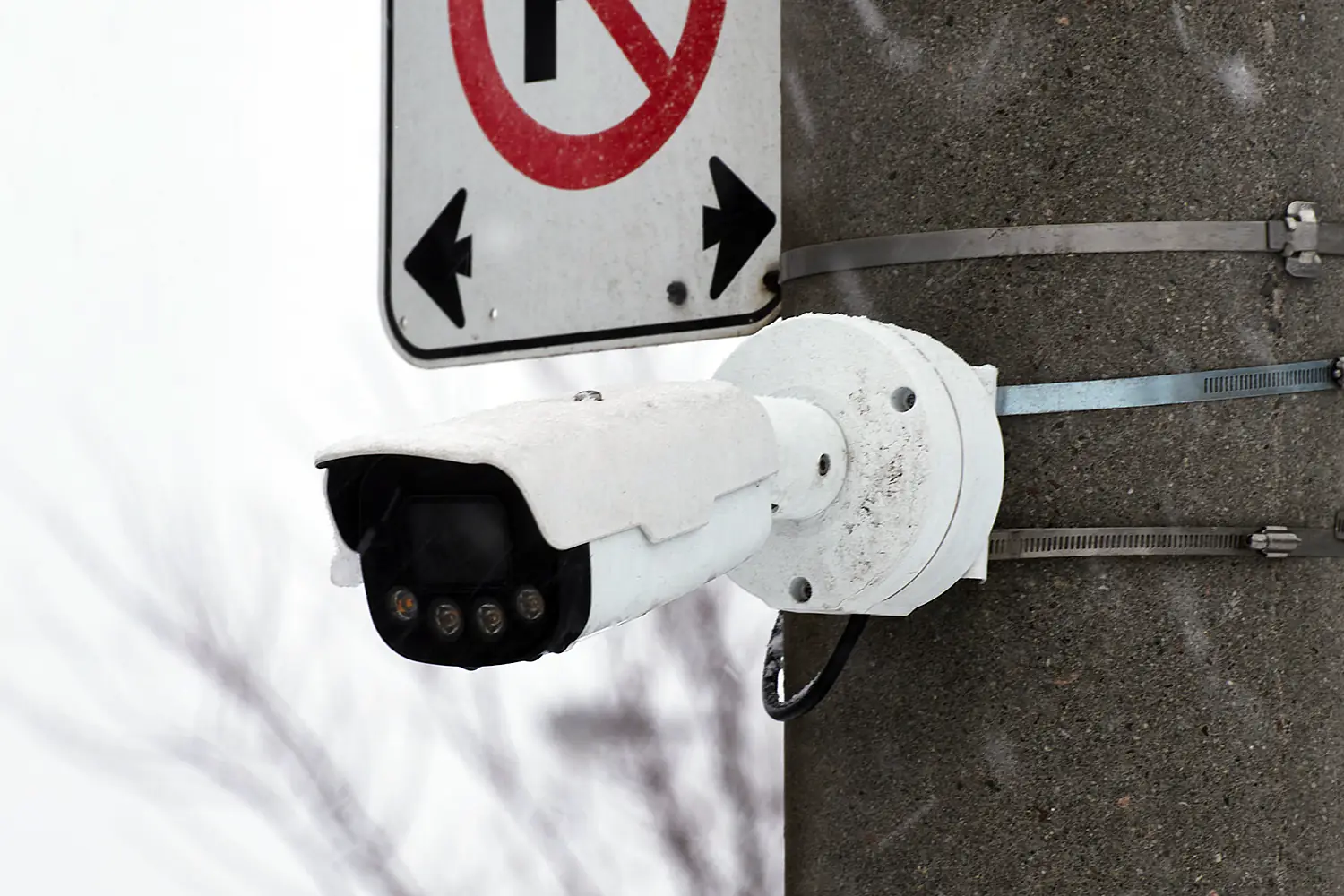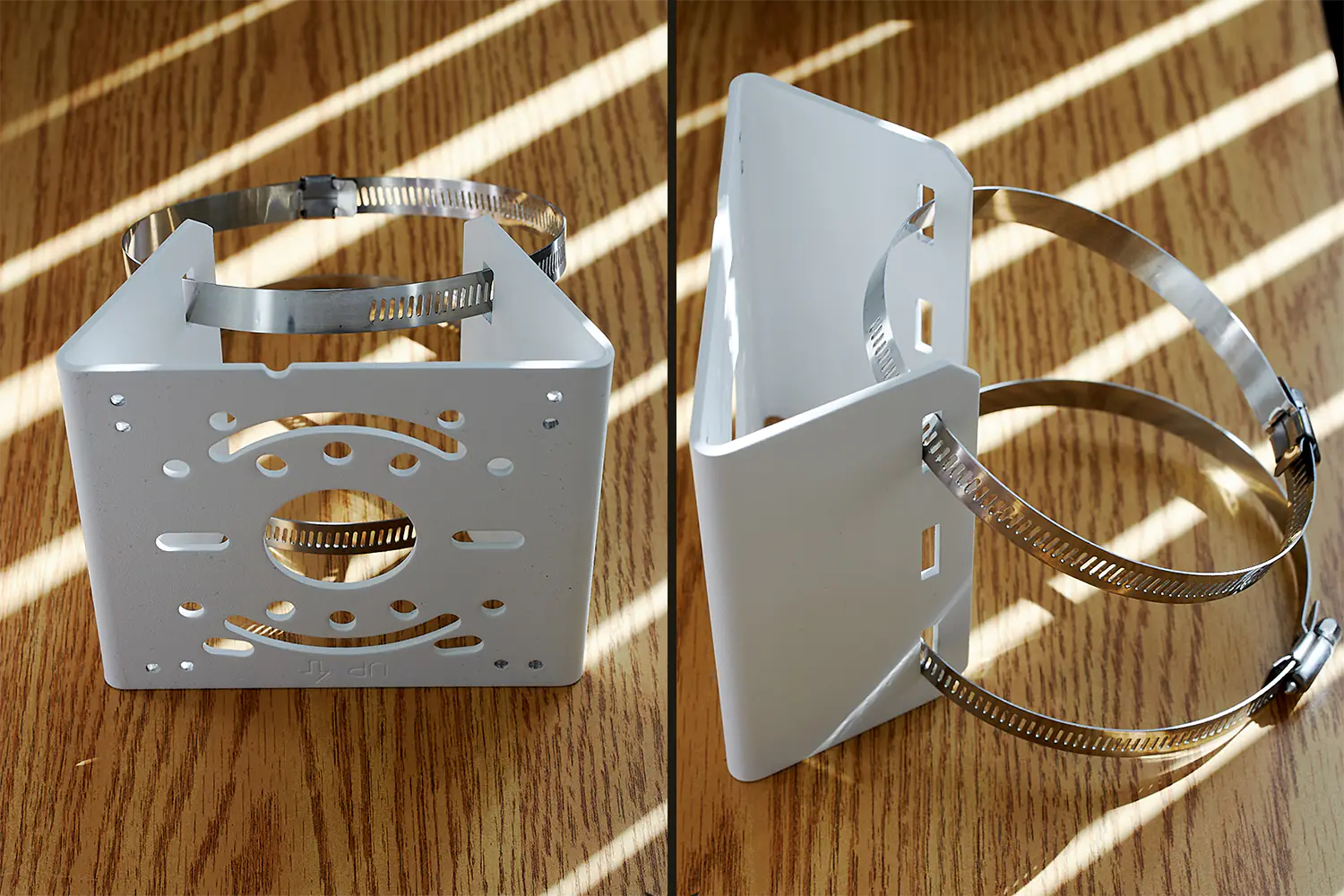 Corner Mount Brackets
A corner mount is required when you need to mount a security camera to the corner of a building. You can find them by searching "Corner" in the search bar at the top of this page.
Corner mounts are typically used for mounting PTZ and fisheye cameras, since they can cover a large area of 270° when mounted at the corner of a building.
You can combine corner mounts with other types of Uniview brackets, such as junction boxes and wall brackets. This allows for the camera's connectors to remain weatherproof and protected from tampering.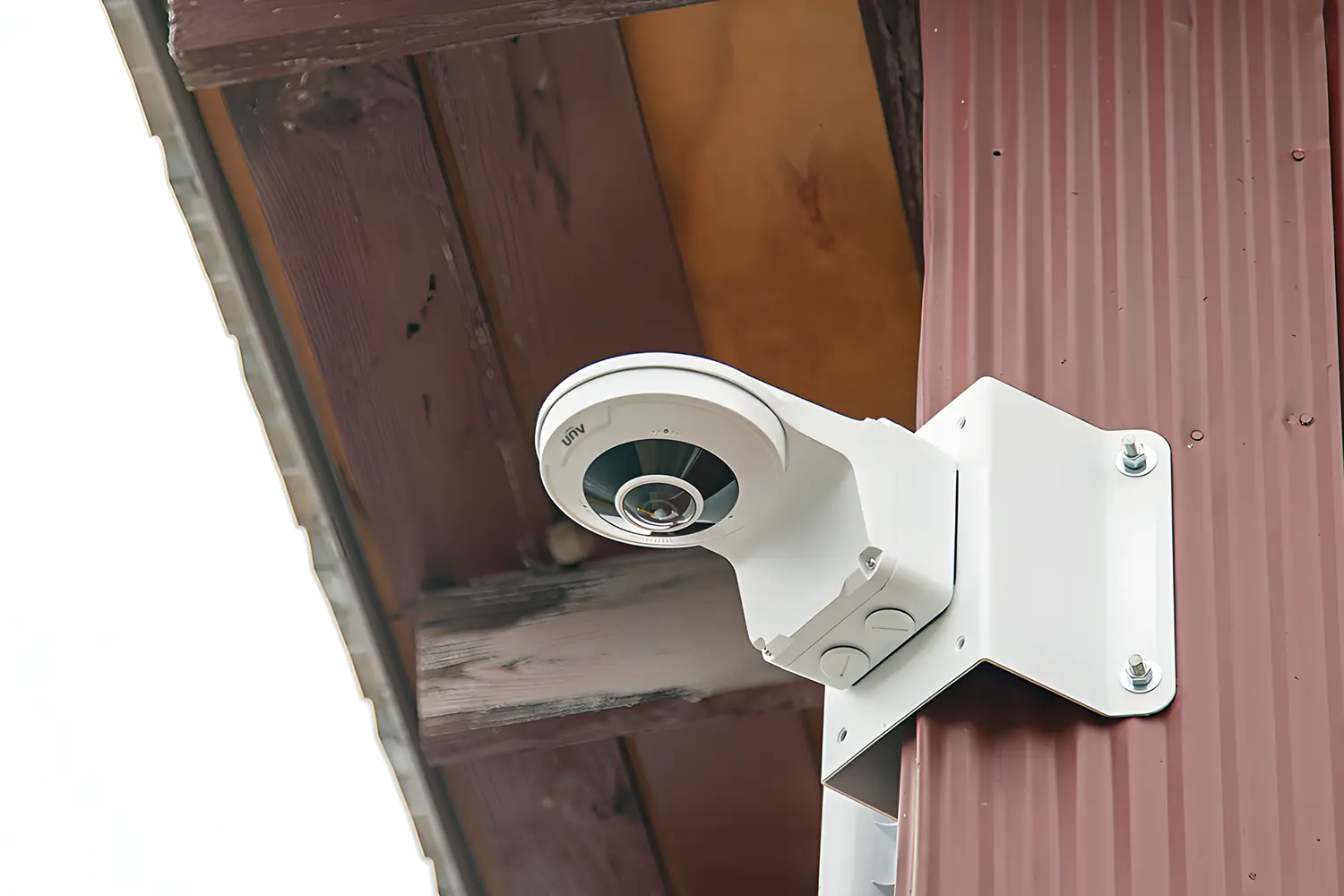 Gooseneck Bracket – Designed for PTZ Cameras
Using a gooseneck bracket allows you to mount your PTZ camera to the rooftop with a slight overhang. This allows for optimal surveillance coverage, while also allowing you to work in relative safety on the roof.
Depending on the type of roof, this installation can be more secure than a typical wall mount bracket. It also allows you to service the camera more easily, without needing to rent an expensive lift.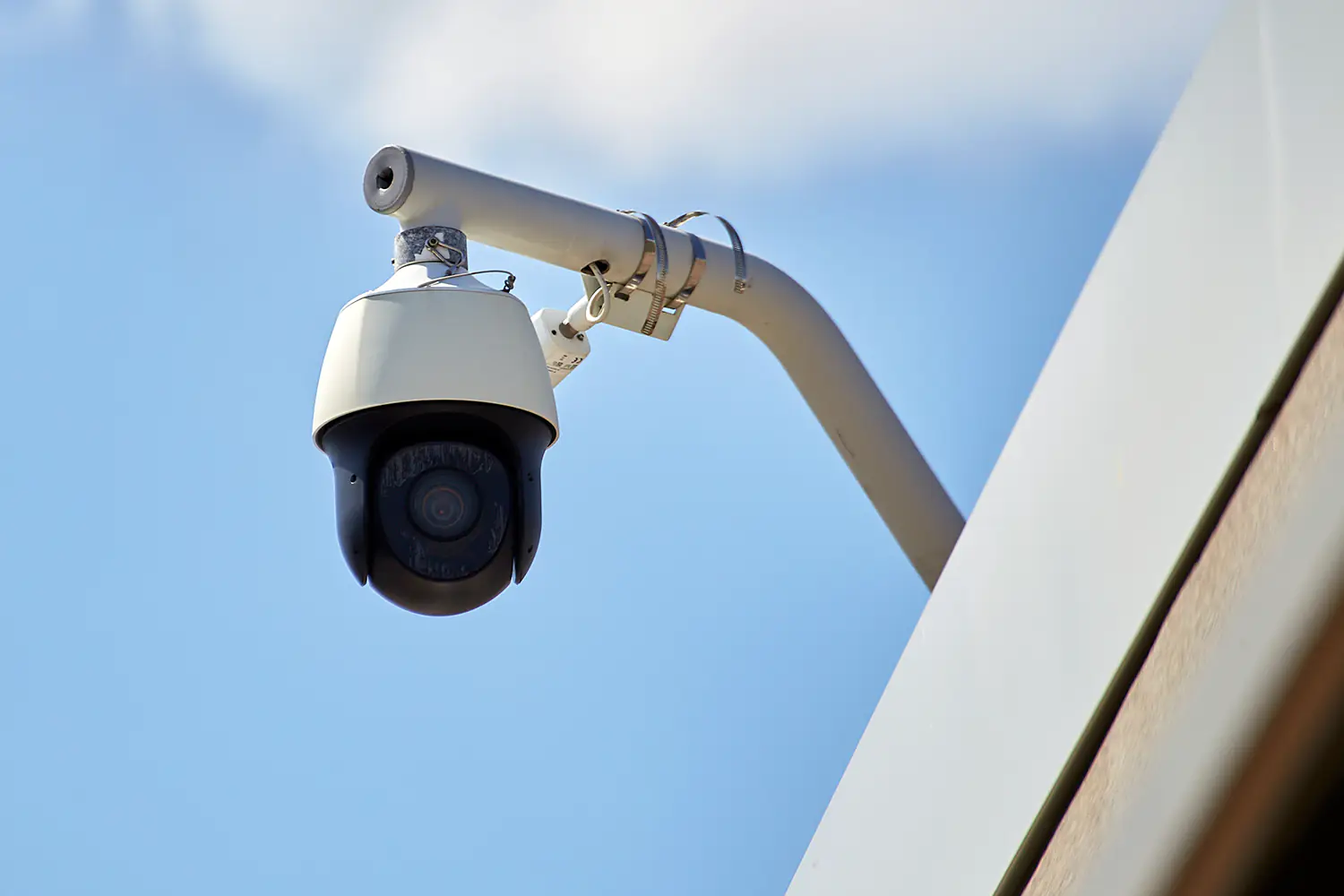 Pendent Mounts – i.e. Ceiling Mounts
If you've ever looked up at the ceiling in a grocery store, you've probably seen a security camera hanging on a long pole. The long pole is known as a pendent (not 'pendant' like the jewellery) mount, but can also be referred to as a ceiling mount.
Uniview has a selection of pendent mounts available in two sizes:
The first piece starting with "CM" or "CE" mounts to the ceiling, and the second piece is an optional extension pole that increases the length of the mount by 50cm (19.7 inches).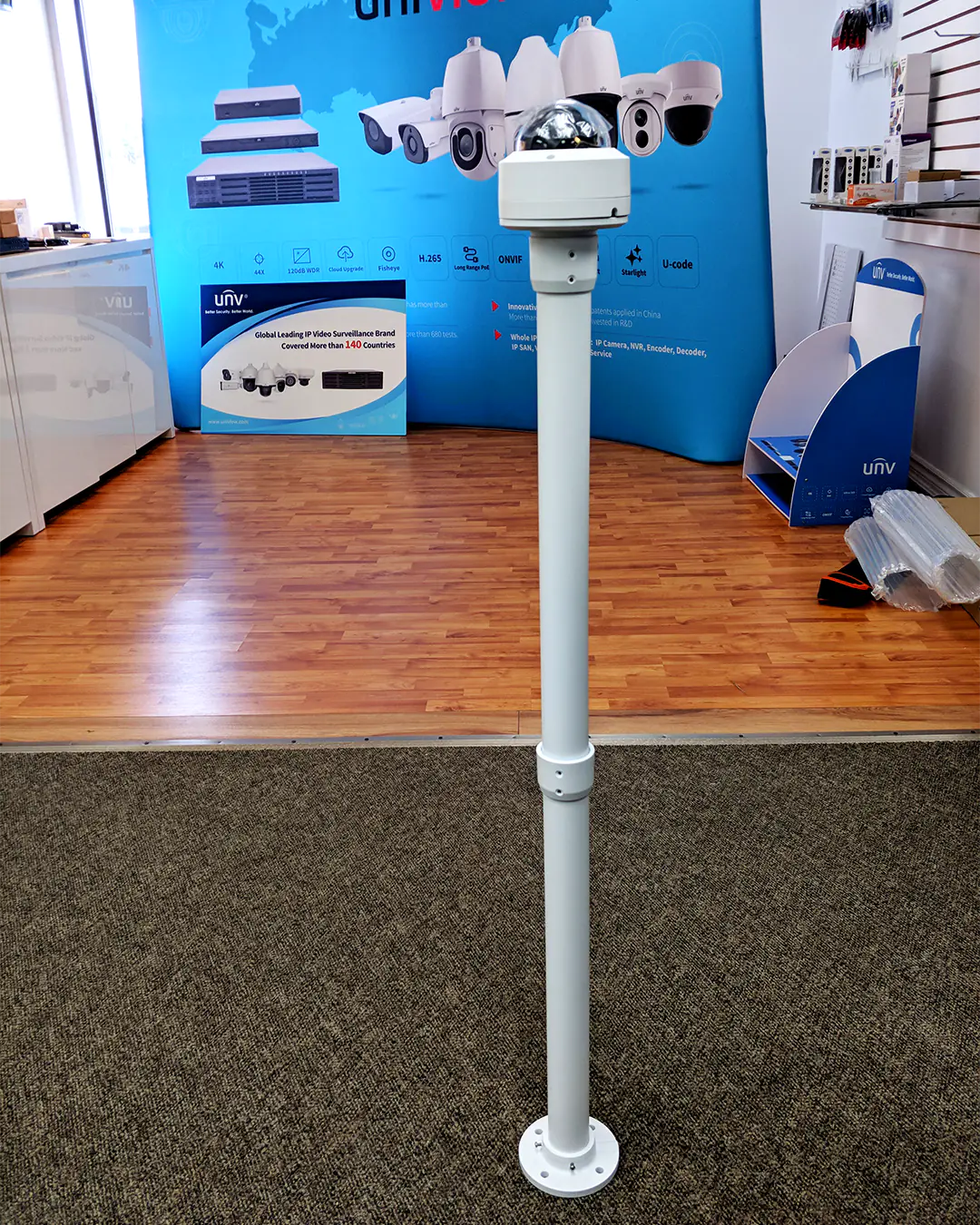 Other Accessories – Waterproof Joint & Rack Mount for NVR
In addition to camera mounting hardware, Uniview also has a few camera accessories that don't fall into the previous categories.
The first is a waterproof plastic joint for use with a variety of junction boxes. The part number is AE-TR-A01-IN. Each plastic joint is threaded with 3/4″ NPT for easy connection with Uniview junction boxes, and third party boxes with 3/4″ thread.
Second, is a set of rack mount ears for NVR302 series video recorders. These can be fitted to the sides of the NVR, allowing them to be mounted in a standard 19″ network rack. The part number for the rack ears are UNV-2150C0B1.