What is Uniview Tri-Guard Series?
Uniview has been hard at work developing the latest in CCTV technology. Combining Active Deterrence, Smart Intrusion Prevention, and ColorHunter technologies together have led to a new camera suitable for many applications. Designed to prevent crimes at night, the Uniview Tri-Guard series can alert and deter intruders when events happen, and provide colour information in low-light environments.
To put it simply, Uniview Tri-Guard Series is like having a floodlight, microphone, and loudspeaker packed into a small camera housing. These cameras include IPC3615SB-ADF28KMC-I0 (5MP Turret), IPC3618SB-ADF28KMC-I0 (8MP Turret), IPC2125SB-ADF28KMC-I0 (5MP Mini-bullet), and IPC2128SB-ADF28KMC-I0 (8MP Mini-bullet).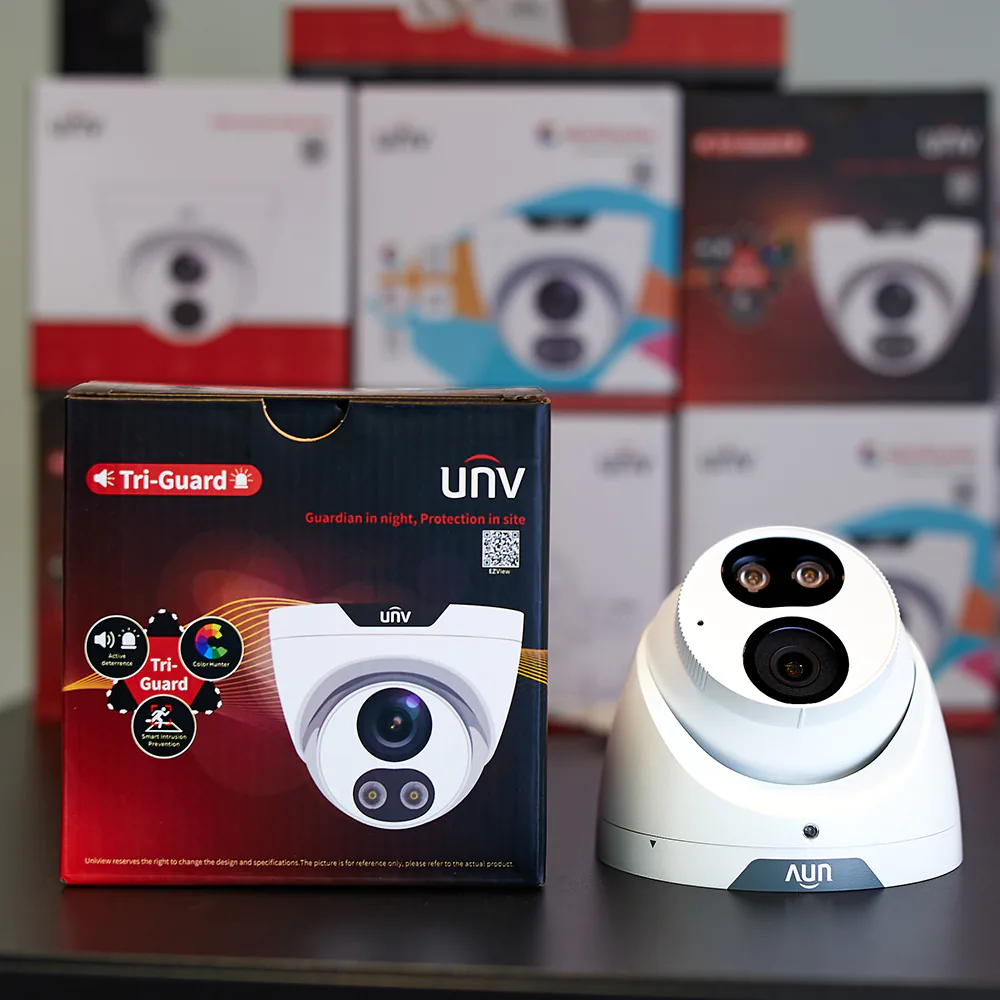 Tri-Guard Series Features – Active Deterrence
Have you ever wished your security cameras could scare intruders away by making noise or flashing lights in their faces? With Tri-Guard Series cameras, this is now possible!
Upon detecting an intruder, the camera will flash a white light while sounding a preset audio warning. You can also record a custom warning (or greeting) for playback through the camera's speakers. In addition, you can enable two-way audio to have a conversation through the camera via EZView app (iOS | Android) on a smartphone or EZStation 3.0 on a PC.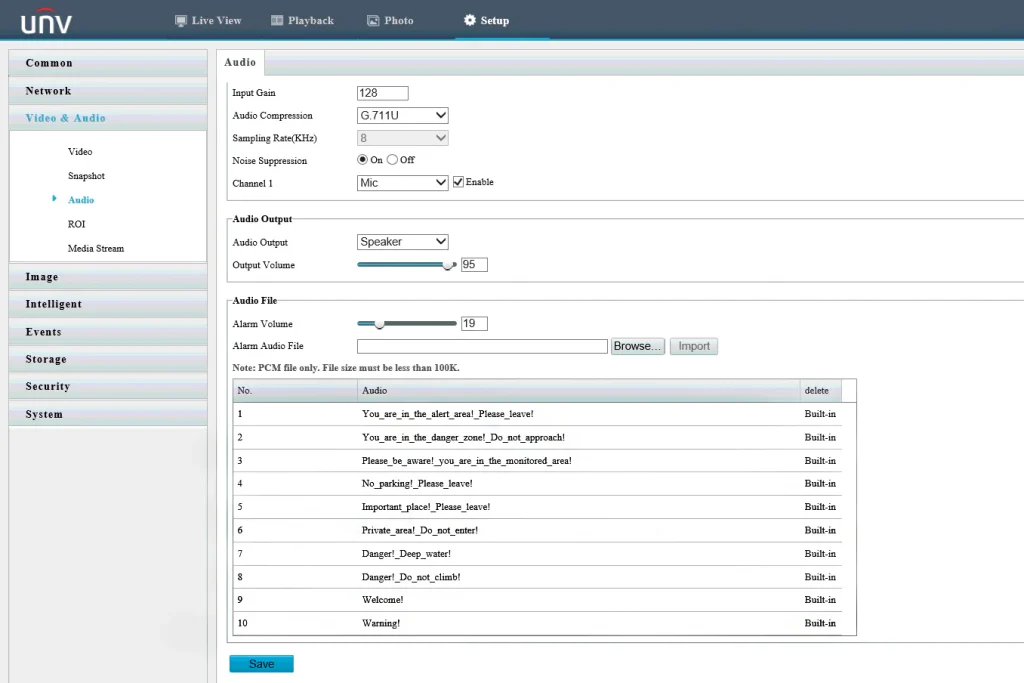 Tri-Guard Series Features – Smart Intrusion Prevention
Tired of constant motion alerts on your security system for no reason? Have you disabled notifications a long time ago and given up? Uniview has a solution for this too!
Based on AI deep learning algorithms, Uniview Smart Intrusion Prevention allows the camera to differentiate between humans, vehicles, and non-important motion in the scene. This leads to a much lower false alarm rate of less than 3%.
Additionally, target classification makes searching video much faster! Instead of searching by motion, you can search by Human, Vehicle, and Non-motor Vehicle (bike or motorcycle) alerts. This allows for efficient retrieval of relevant events while ignoring unrelated alerts.
Tri-Guard Series Features – ColorHunter
Released in 2021, Uniview's ColorHunter cameras have a powerful white floodlight that illuminates the scene even with no ambient lighting. This means instead of a black and white video, you'll be able to see in full colour even at night or in a dark room.
The Uniview Tri-Guard Series takes the ColorHunter technology and adds a bit of spice, allowing the floodlight to run in "Active Deterrence" mode. Firstly, the white light will flash continuously upon detecting a threat. Moreover, we have already seen great results in the field with these cameras. For example, one client reported catalytic convert thieves who ran away after being spotted by the camera!
Worth the Extra Cost?
The decision to install a Uniview Tri-Guard Series camera ultimately depends on the budget and security needs of a business or home. A lot of technology and features are packed into these cameras, including two-way audio and white LED lights. Additionally, the extra cost can be worth it depending on how the camera is used.
With multiple elements such as floodlight, microphone, and loudspeaker packed into a small camera, the Uniview Tri-Guard Series is capable of more than simple video surveillance. Need to greet clients, discourage trespassers, or add additional lighting outdoors? Uniview Tri-Guard Series can do all that and more!