Product Overview – HDMI over Cat5e Extender
The Foresight CCTV HDMI extender is a powerful receiver/transmitter combo in a small form factor. Specifically designed for CCTV equipment, it can transmit a 1080p signal up to 40M over Cat5e or Cat6 cable. Also, a 720p signal can be transmitted up to 70M.
The package includes an HDMI transmitter, HDMI receiver, and a USB Micro-B to USB A cable. The HDMI transmitter is labeled HE01SET, and should be installed on the NVR side. It has a small USB Micro-B input on the side for receiving extra power via 5V USB. The extra power is only necessary if the NVR's HDMI source is not able to provide enough power to the receiver (in most cases you can ignore it).
In addition, the package contains an HDMI receiver which is labeled HE01SER. This should be installed on the TV/Monitor side, as it will be receiving the signal from the NVR.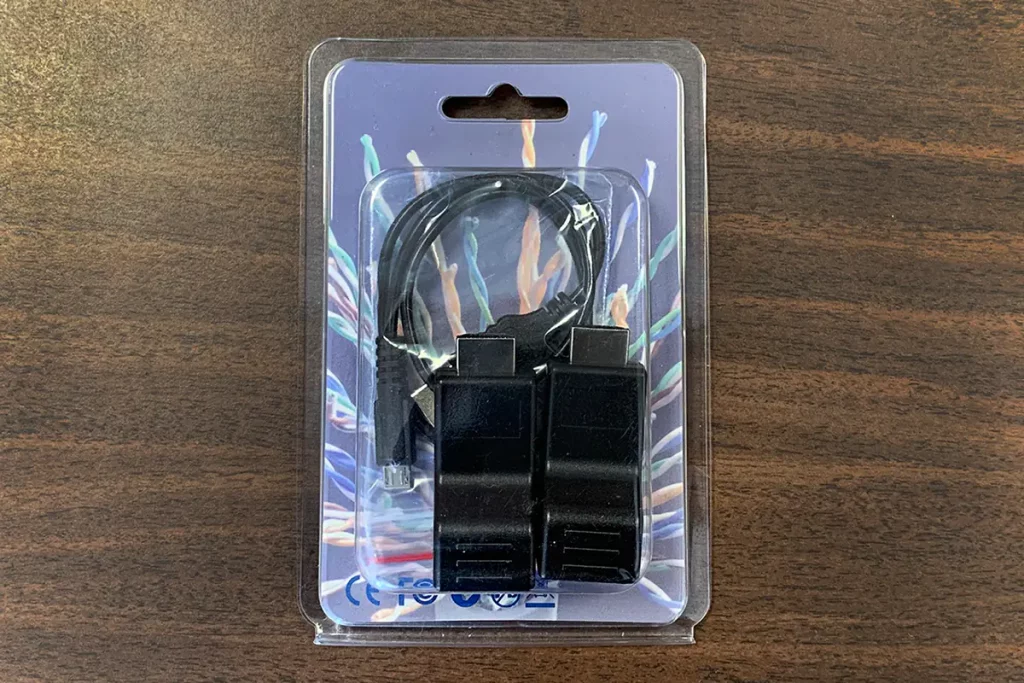 Configuration and Setup – Via Cat5e or Cat6 Cable
Installing this HDMI extender is a breeze due to the simplicity of the design. You don't need an HDMI cable, because the transmitter and receiver already have male HDMI connections. Simply plug the transmitter into the back of your NVR and plug the receiver into an HDMI port on your monitor or TV. Between the transmitter and receiver, you need to connect a Cat5e/Cat6 cable with terminated RJ45 ends.
After plugging everything in, you should see a solid green light on the back of receiver/transmitter. If you don't see the green light, ensure that all four pairs of your Cat5e/Cat6 are correctly terminated and the HDMI connector is pushed in all the way. Finally, you should see the vide from the NVR displayed on your monitor.
Final Thoughts – Great Value, Easy to Use!
The Foresight HDMI over Cat5e/Cat6 extender is an excellent product for extending the signal of HDMI over longer distances. We have seen a few cheaper devices on the market which require external power, produce a flickering image, and generally don't perform as well compared to our device. In fact, one installer mentioned he was able to run the cable ~80M and still get a perfect video output at 1080p resolution!
You can view this product and detailed specifications at the product page – XLR-ACC-HDMIEXTENDER-40M. For any questions related to this product, feel free to contact us at 905-794-5508 or send an email to info@xlrsecurity.com.