Introduction to Uniview Part Names
It's easy to find yourself confused when looking through a catalogue of Uniview cameras for the first time. With part numbers such as IPC3614SR3-ADF28KM-G-BK spanning 23 characters, you might find yourself feeling overwhelmed. However, there is a naming convention hidden in plain sight. In this guide, we'll break down the naming conventions applied to Uniview IP cameras and NVRs in a clear, concise way. By the end, you will understand what each of the numbers and letters mean, allowing you to compare UNV models more easily.
Uniview Cameras – IPC Naming Rules
Every Uniview IP camera starts with the letters "IPC" in the model number. This is how you can tell we are referring to an IP camera, instead of an NVR. In this case, "IPC" is an acronym for "IP Camera", which should make it easy to remember.
UNV Camera – Main Part Code
First, we have the main part number which is usually 3 or 4 numbers. For example: IPC325, IPC3614, or IPC6612; the underlined portion is the main part number. The first number refers to the type of camera such as dome, bullet, fisheye, or PTZ. The following list describes the correlation:
2xxx: Bullet camera
3xx: Dome camera
3xxx: Turret camera
6xxx: PTZ dome camera
8xx: Fisheye or panoramic camera
9xxx: Dual lens PTZ dome
UNV Camera – Subcategory Part Code
Second, we have the subcategory part number. Together with the main part code, the subcategory part code helps accurately narrow down the type of camera. For example, 31x is a mini (low-profile) dome, 32x is a regular fixed dome, and 323x is a varifocal dome.
To be clear, the first two digits of the Unview camera model make up the main and subcategory part code. Here's a list of the most commonly used UNV camera subcategories:
21xx: Mini Bullet camera | 22xx: Bullet camera (fixed lens) | 23xx: Varifocal Bullet camera
31x: Low-profile dome | 32x: Dome camera (fixed lens) | 323x: Varifocal dome
361x: Turret camera (fixed lens) | 363x: Varifocal turret camera
64xx: 4-inch PTZ camera | 66xx: Standard PTZ camera | 68xx: 8-inch PTZ camera
81x: Fisheye camera | 854x: Omniview camera | 86x: Pro Fisheye camera
UNV Camera – Resolution Part Code
Next, we have the resolution part code. This is the last digit of the main part number; for example, IPC324 or IPC2328. This determines the resolution of the camera in megapixels. It's quite straightforward, here are some examples:
IPC3232SB-ADZK-I0 – 2MP camera
IPC2124SR3-ADF28KM-G – 4MP camera
IPC361

5

SE-ADF28KM-WL – 5MP camera
IPC328SB-ADF40K-I0 – 8MP camera
UNV Camera – Product Series Part Code
After the resolution part code, there is a two-letter label which determines the Uniview product series of the camera. See overview below:
-LB: Easy series
-LE: Easy star series
-SB: Prime-I series
-SS: Prime-II series
-SE: Prime-III series
-SA: Prime-IV series
-EA: Pro AlphaView series
UNV Camera – Product Function Part Code
Finally, we have the Uniview product function labels. These are a series of letters found towards the end of a part number, typically after a dash "-". For example, in the part number IPC3614SR3-ADF28KM-G, every letter after SR3- implies a feature or function[*]. In the above example, we know the camera has a built-in microphone (A), supports WDR (D), has a fixed 2.8mm lens (F28), supports an SD card (K), and has a metal housing (M).
See full list of product function codes below:
-H: Supports 60fps
-A: Built-in audio (via microphone)
-C: Built-in speaker
-D: Supports WDR
-M: Metal housing
-S/N: Simplified cable / Cable-free
-W: Supports Wi-Fi
-F/Z: Fixed or motorized zoom lens
-G: SFP port (fiber interface)
-WL: White light (ColorHunter Series)
*The exception is the very last letter of the camera's part number, such as -G or -I0. These are iterations of chipsets, mainly used for internal reference.
Diagram - Uniview IPC Naming Rules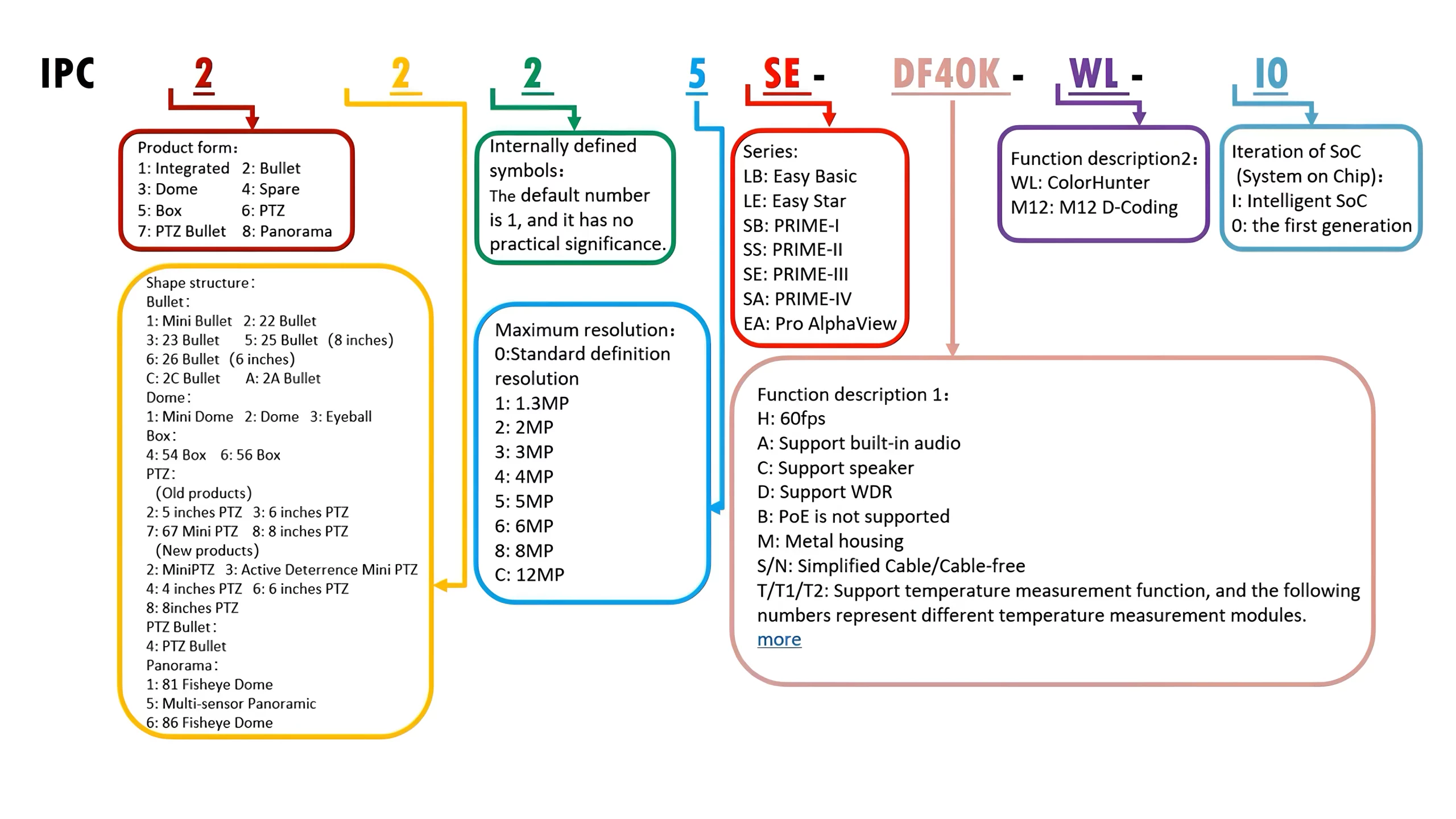 Uniview Recorders – NVR Naming Rules
Uniview network video recorders start with "NVR" in the model number, while their hybrid models start with "XVR". The naming rules for the NVR are focused mainly on # of SATA slots and # of cameras supported. Additionally, there are type and sub-type suffixes which describe the additional features of the NVRs.
UNV NVRs – Series & HDD Count
Uniview NVRs begin with a number which represents their series. The majority of their products are in the 300 series, which include low and mid-end recorders. If the model number starts with 5 through 8, it's a high-end Uniview NVR.
The second and third numbers in the part number represent the HDD count of the unit. For example, NVR301 can support up to one hard drive, while NVR308 supports up to eight. Another example is NVR824, which supports a total of twenty-four hard drives for storage.
UNV NVRs – Number of Channels & Type
The next Uniview NVR naming rule allows you to quickly determine have many cameras the unit can take. This rule is quite simple, and is based on the number immediately after the first "-". Let's take Uniview NVR302-08S2-P8 for example: After the first hyphen we have "-08S2″ which means the unit is an 8ch recorder.
Finally, we have the type and subtype naming rules. This information tells you which series the NVR is a part of, as well as any features such as PoE or WiFi. The "type" of NVR means which series the equipment belongs to, while "subtype" tells you if it supports PoE or WiFi. 
For example, NVR301-04X-P4 is a part of the Uniview X-Series of recorders. These have a fanless design, support VCA & Smart Search, and support full 8MP recording on all channels. The "-P4" subtype means it also has four PoE ports for sending power and data to your cameras.
Diagram - Uniview NVR Naming Rules