Introduction
A 180° security camera is a camera that covers an extremely wide field of view (FoV) thanks to a special fisheye lens. This causes slight distortion in the image, however it allows the camera to capture more area in one shot. This is very useful for video surveillance.
In February 2023, Uniview released their new 180° panoramic lens security cameras. Two models are currently available: IPC2105SB-ADF16KM-I0 & IPC3605SB-ADF16KM-I0.
IPC2105 is a mini-bullet and IPC3605 is a turret style camera; otherwise they have the same level of performance. Both cameras offer a 180° field of view, built-in microphones, and a 5MP sensor that records at 2880 x 1620 resolution.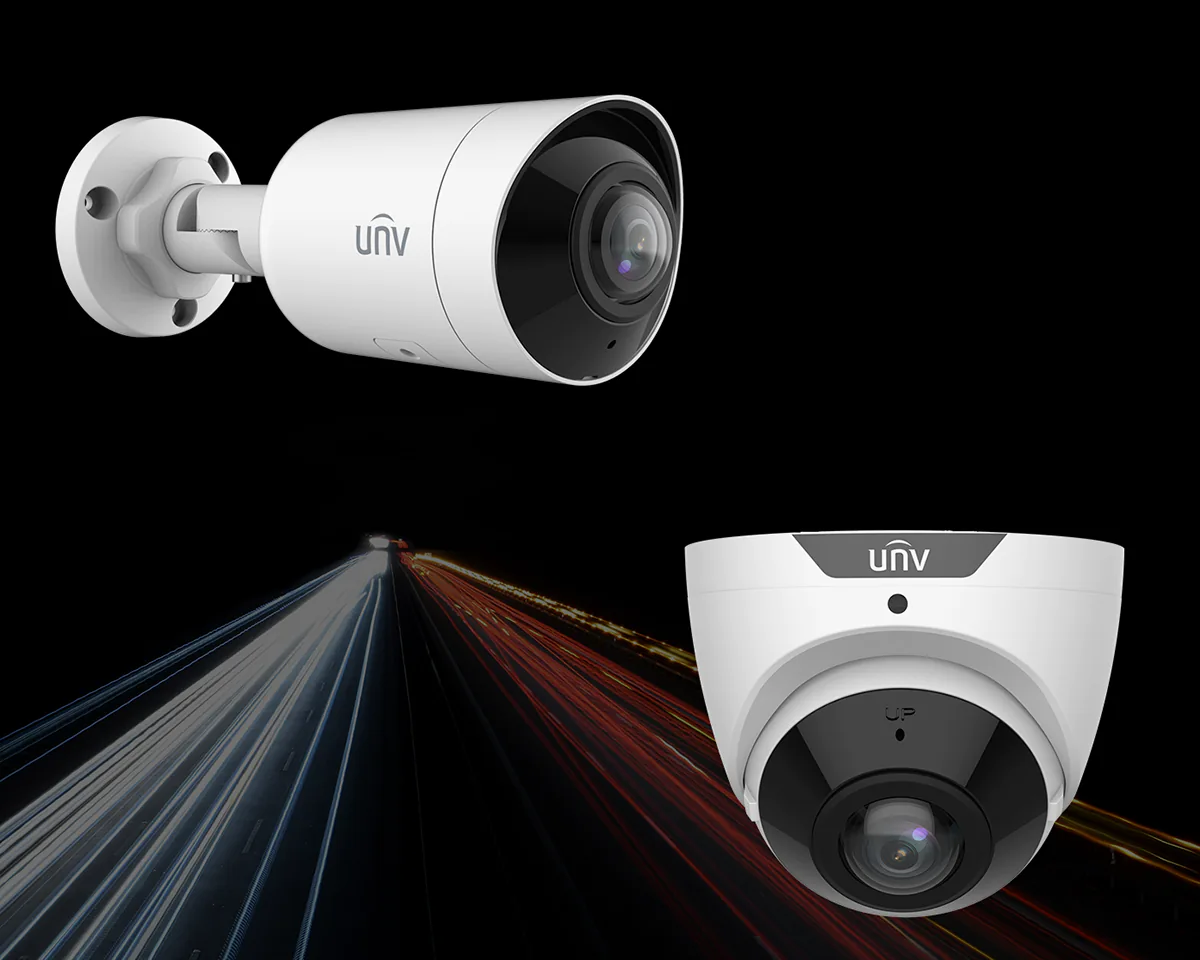 Uses for a 180° Security Camera
We often see 2.8mm lens cameras used as a default, thanks to their wide ~101° FoV. However, the 180° camera we are reviewing has nearly double the viewing angle. Where should we install this camera to make use of the extra-wide viewing angle?
Building Lobby / Vestibule
The entrances to residential and commercial buildings are often small lobbies with a directory of units, with an intercom to call specific tenants. In a tight space, using a wider lens allows you to monitor the full area while minimizing blind spots.
Store Aisle
Another great use for a 180° security camera is for monitoring store aisle. Because these aisles are usually quite long, a standard 2.8mm camera may not be able to capture the full area.
Parking Lot
As we'll show later in this review, using a 180 degree camera in a parking lot is a great idea. Usually this requires two cameras; one facing left and one facing right. With the extremely wide-angle of 180 degrees, you can monitor the same area with just one camera.
Video Demonstration
We recorded footage from the Uniview 180° security camera in from of our office. Watch the video in high quality to get a better understanding of how the camera performs.
Snapshots from the Camera
To test the camera, we installed the IPC3605SB wide-angle turret in front of our office. Our plaza is essentially a wide parking lot; an ideal location to showcase this camera. We took one snapshot during the day, and one at night.
Snapshot #1 - 180° camera during day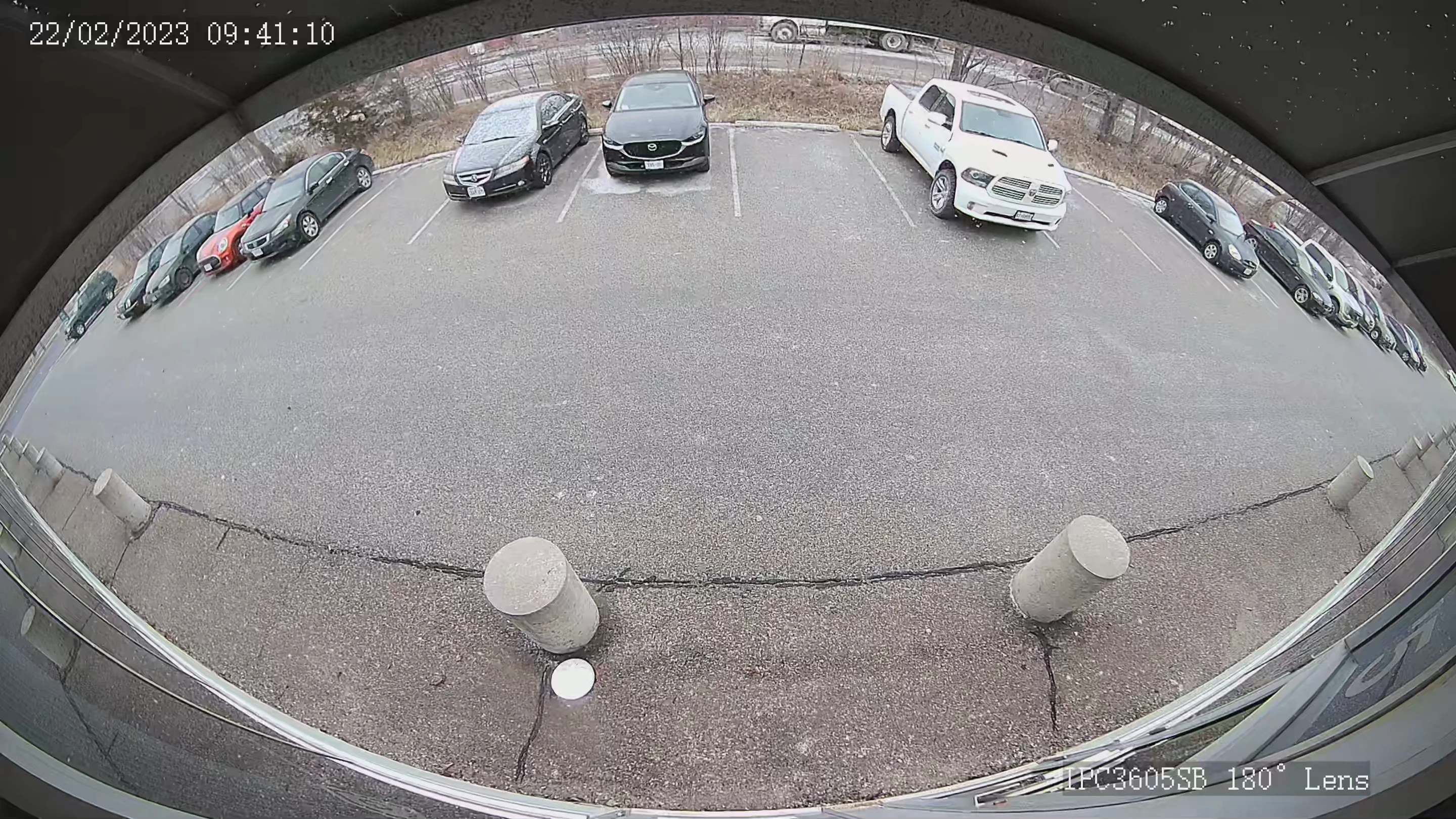 Snapshot #2 - 180° camera during night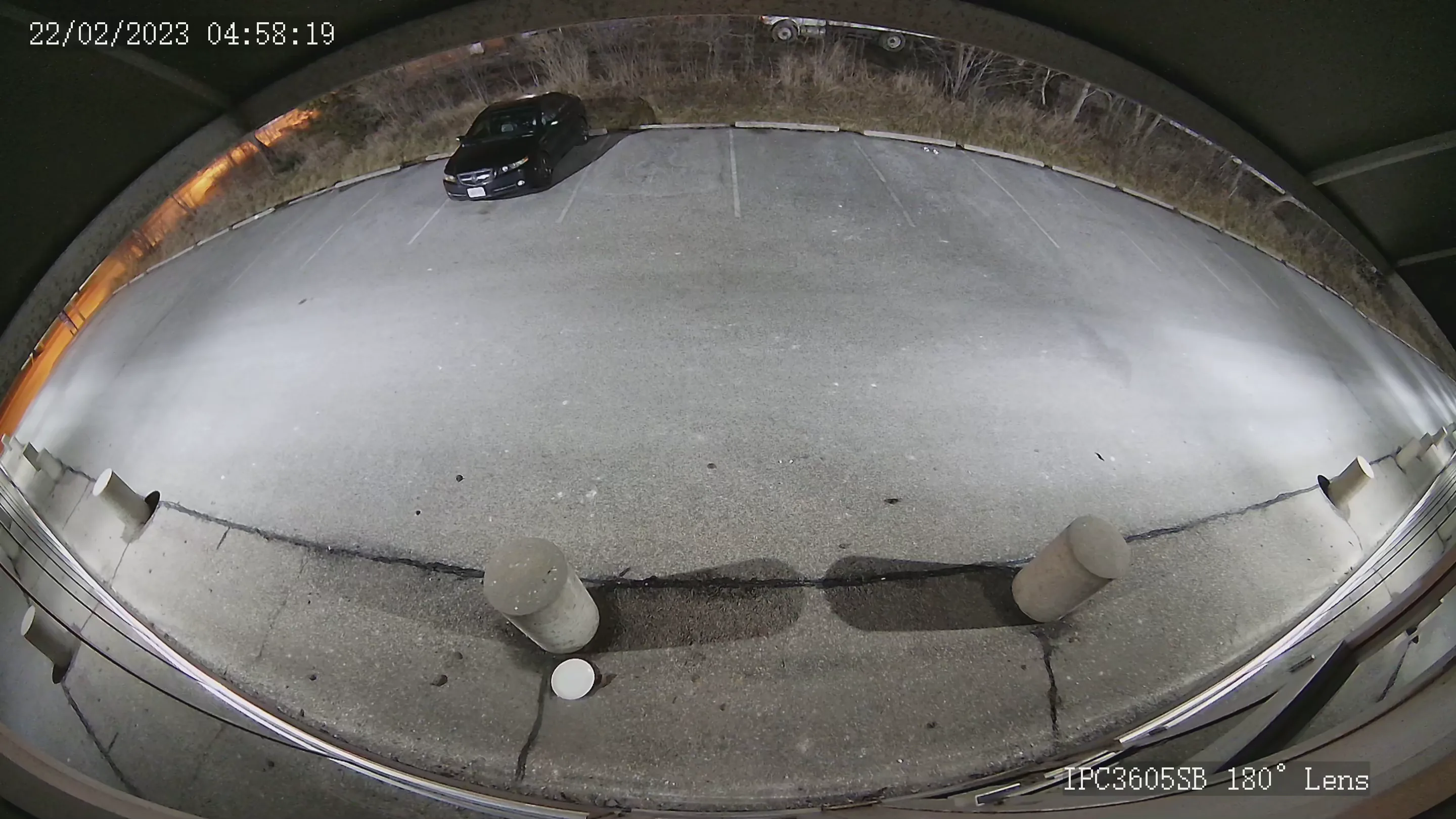 As you can see from the above screenshots, the camera does a great job providing an overview of the parking lot. Next, let's see how a regular 4.0mm security camera would perform in the same scenario.
Image Comparison – 180° Camera vs. 2.8mm & 4.0mm
To have a better understanding of the advantages and disadvantages offered by a 180° security camera, let's compare it to a standard fixed lens camera.
Keep these two concepts in mind when making a comparison:
A wider angle means you won't have as much detail when zooming in
A wider angle can lead to barrel distortion (image looks rounded at the top and bottom)
Snapshot #3 - 4.0mm camera during day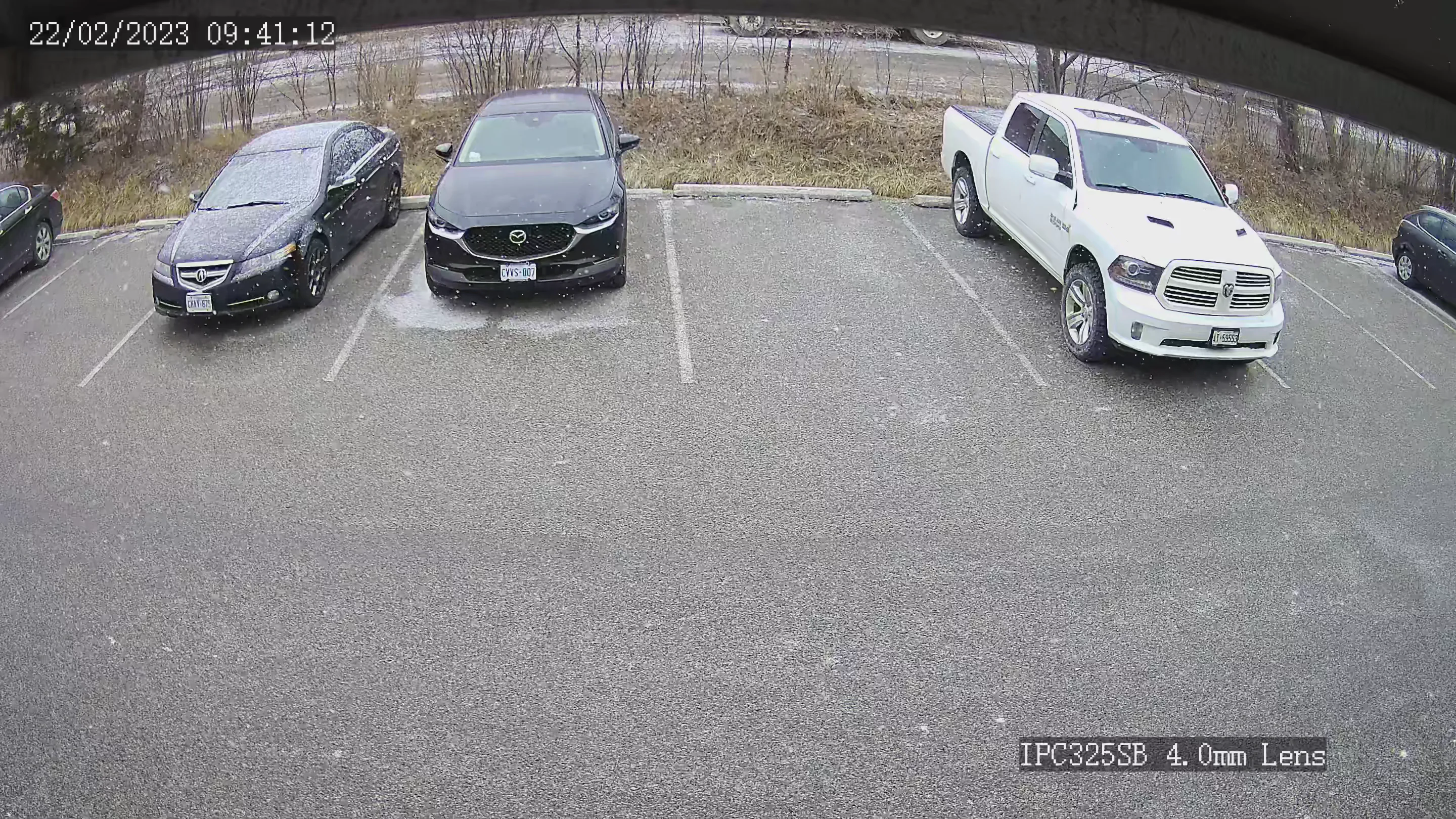 The 4.0mm camera is better if you need to see fine details such as license plates or faces. However, with this camera you are missing more than half the parking lot.
Therefore, it's a tradeoff between image quality and coverage. You'll have to make a judgement based on your scenario to choose the camera that works best for you.
Snapshot #4 - 180° camera with 2.8mm & 4.0mm angle overlay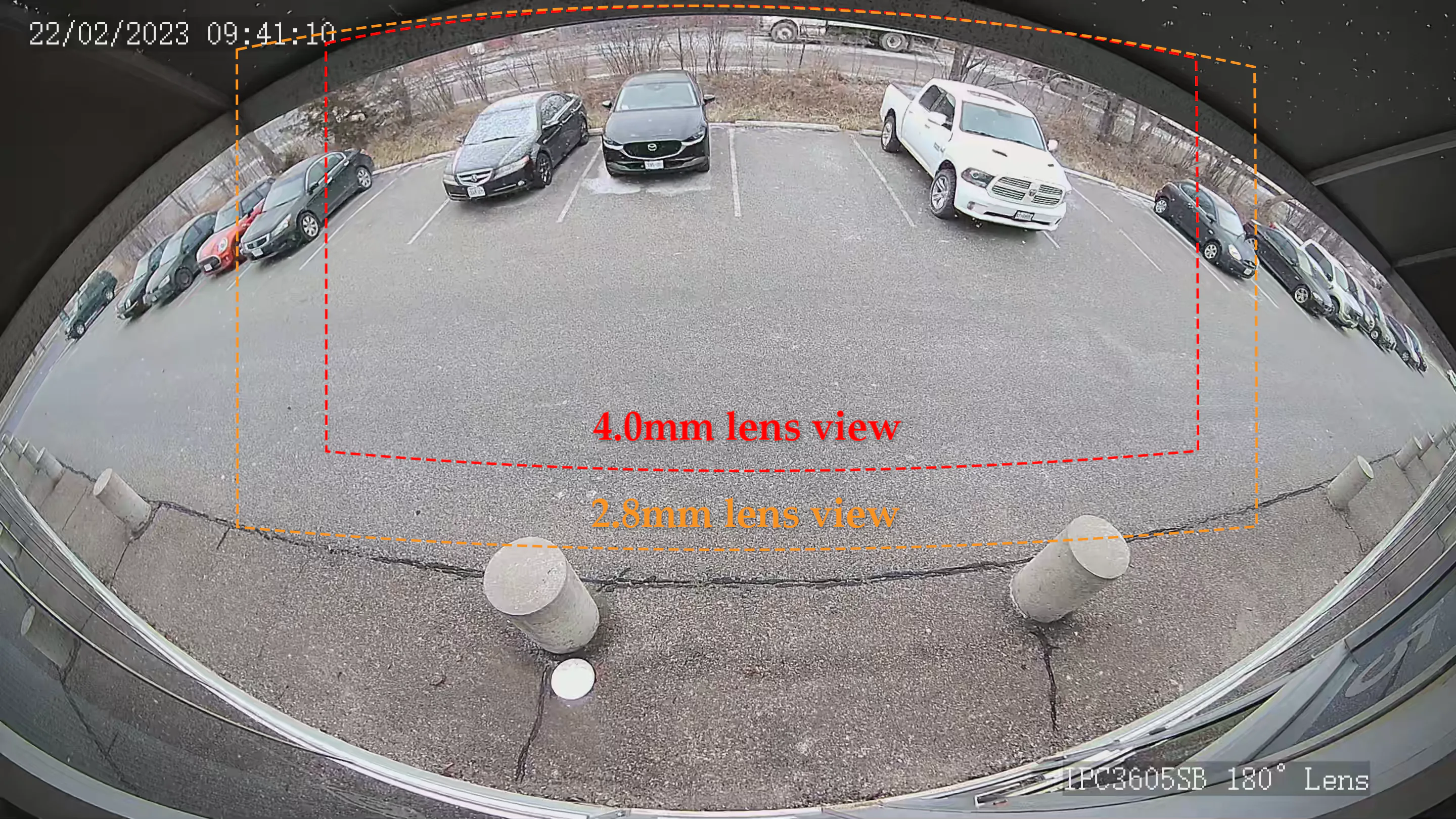 Settings – Dewarping Level
These Uniview 180° cameras have a unique setting called "Dewarping Level" which allows you to control how distorted the image appears. A lower level (1) results in a wider angle with more distortion, while a higher level (9) crops the image while offering less distortion.
The Dewarping Level setting can be found by logging into the camera and navigating to Setup -> Image -> Image -> Advanced.
See below for an example of how the image looks at different dewarp levels:
Final Thoughts
Wide angle 180° security cameras should be considered when you need to record a large area or a tight indoor space. They are a great tool for reducing blind spots, making it easy to see what's happening on your property.
We are always happy to see new innovations taking place in the security industry. If you have any questions about 180° security cameras, feel free to contact us for more information.
Also, feel free to share this article with others if you found it helpful. Thanks for reading and I hope you learned something!