Uniview Software & Tools – Introduction
Uniview has a suite of professional software for installers and end users. This software includes VMS (video management system) clients for Windows & MacOS, an IP search tool for PC, a viewing app for smartphones, and more. Uniview's software is user-friendly, yet powerful and secure.
In this guide, will provide a brief overview of the different tools & software available from Uniview. To download the software for PC, please visit our Documents & Tools page. For smartphone, you'll need to search for "Uniview" in the app store.
EZStation 3.0 – Uniview VMS Client for MacOS & PC
If you're looking to view your Uniview surveillance system on a desktop or laptop computer, EZStation 3.0 is the software you'll need to install. EZStation 3.0 allows you to add Uniview NVRs or cameras via IP address, domain name, or via the EZCloud. The client includes a variety of features such as Live View, Playback, E-Map, and Alarm Records. 
EZStation 3.0 is a flexible software, allowing you to create up to four live view tabs and drag them onto different monitors. You can also customize your views and save them under the "Custom View" folder, allowing you to quickly check the most important scenes based on your preference. The software will also remember your tabs and settings if you close it, allowing you to monitor your cameras without stress.
Additionally, EZStation 3.0 can be setup like a monitoring station via the "Alarm Records" tab. You have the ability to filter alarms, view playback to see what triggered the alarm, and acknowledge the event while adding optional remarks.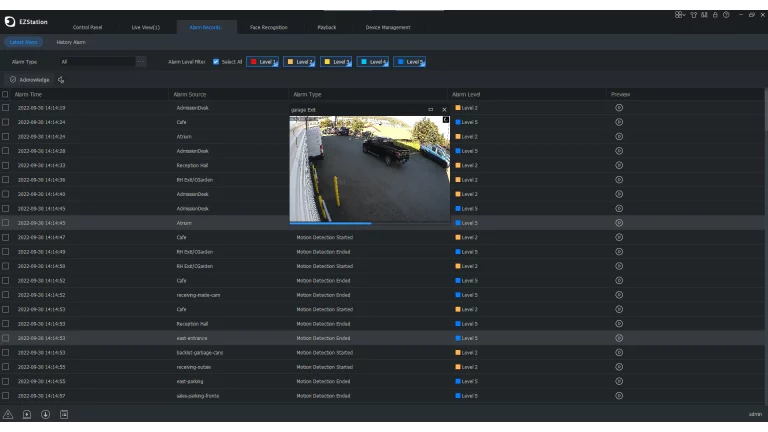 EZPlayer – Uniview .MP4 / .TS Player for Exported Footage
If you need to view surveillance clips that have been exported to an HDD or USB, the EZPlayer software is what you will need. EZPlayer is a media player for video recordings, supporting videos in .ts, and .mp4 formats. To help you find important events faster, the software supports synchronous playback, 1/4x to 16x playback speed, and frame-by-frame searching. Additionally, EZPlayer supports the following features:
Video Clipping (.MP4 & .TS)
Snapshot (.BMP & .JPG)
Digital Zoom
Uniview Watermark
Split View (1 – 16)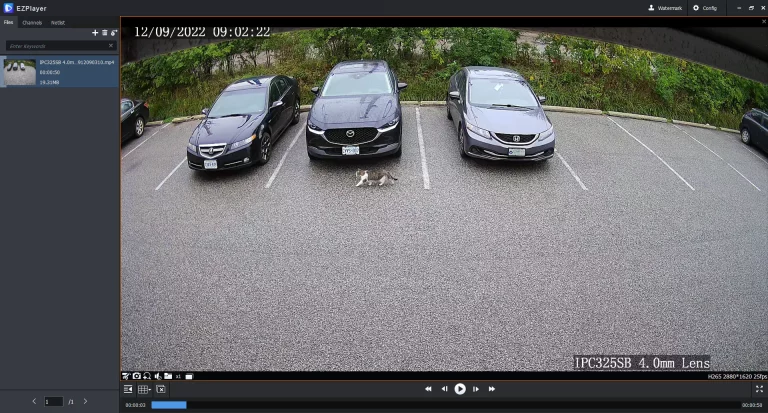 EZTools 2.0 – Uniview IP Camera Seach & Configuration Tool
EZTools 2.0 is a powerful configuration tool for Uniview cameras that allows you to find, configure, and upgrade devices in your local network. Using EZTools 2.0, you can easily configure dozens of cameras within a few minutes!
In addition to finding Uniview cameras, the EZTools 2.0 search tool can find a variety of cameras from different brands such as Axis, Hikvision, Dahua, and Lorex. Very helpful if you are doing a surveillance system takeover.
Finally, EZTools 2.0 has a built-in HDD calculator, allowing you to spec out the optimal number of hard drives for your system. You can input a number of cameras, size of HDD storage, and hours of recording per day. The HDD calculator will tell you the approximate number of days your system will record for.
Personally, I find the built-in HDD calculator very handy whenever someone asks for how much storage they need!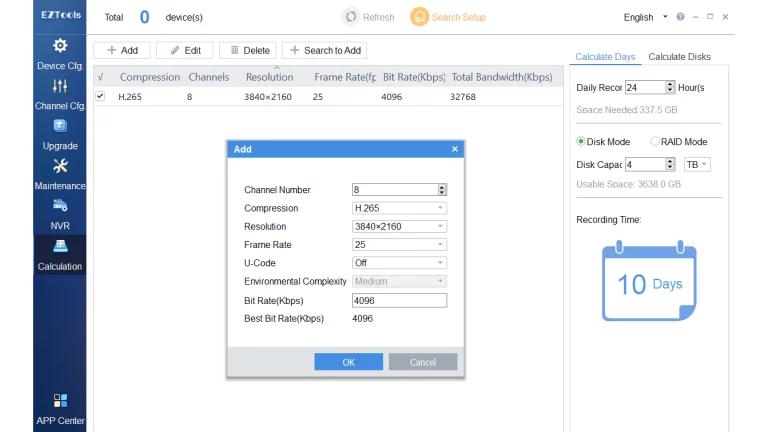 EZView – Mobile App for Viewing Uniview Cameras
EZView is one of the fastest, most user-friendly camera viewing apps available. If you follow these steps, you'll have your cameras up and running in no time:
Open the app, select your country when prompted
Sign up for an account using your email address (verify using code sent to your email)
Navigate to "Devices", click the "+" in the top right, and choose "Scan"
Scan the QR code located on the bottom of your NVR
The EZView app is user-friendly and supports features such as one-click firmware upgrades, push notifications, and two-way audio. Additionally, you can auto-search for devices in your LAN, allowing you to connect to WiFi and see all cameras in your network. And finally, the app has a built-in user manual explaining all the functions and icons in the menus.